---
Now just 10 days until the season begins!
Spring is here and so is baseball!
There are just a few spaces left in Blastball, Girls Rookie and Bantam, Boys Midget and Bantam but we will be closing down registration very soon as the 2017 registration process comes to a close.
---
Girls' Day of Baseball!
It's that time of year again! With the support of RYBL, the EBA and the OWBL, The Toronto Fusion are running Girls' Day again at the end of April.  This year, we are splitting the event over two days, with girls born 2007-2010 on Saturday and girls born 2002-2006 on Sunday.
Registration is available online this year: https://ontariowomensbaseball.com/fusion/girlsday/ or, by emailing torontofusionbaseball@hotmail.com.
Junior Team Open Tryouts
There will be Junior Team Open Tryouts on April 22 and May 6 (3-5 pm) at Tom Riley Park.
2017 Girls Rookie Select Team Tryouts
The Royal York Cardinals Girls Rookie Select team will be holding try-outs for the 2017 season team on Sunday, April 30, 2017.  Girls with birth year 2007, 2008 or 2009 are encouraged to attend the try-out for the 2017 team.  Tryouts will be held at Pro Teach (25 Whitlam Ave, Etobicoke, ON M8V 2K1) from 9-11 am on Sunday, April 30, 2017.  Those players who are offered a position with the team will participate in practices, games and tournaments from May – August, with the majority of team events held in July and August.  This is the only all-female Rookie Select team in Ontario, and as such the program is designed to optimize the development of elite level players.  Select team members also play RYBL House League.
For further information about the 2017 team, please contact Coach Rebecca Wells-Jopling at rjwj88@gmail.com or 416-653-6751.
Park Lawn PALOOZA (FRIDAY, MAY 26, 5:00 – 8:00 PM)
PARKLAWN JUNIOR, MIDDLE SCHOOL 71 BALLACAINE DRIVE, ETOBICOKE (Park Lawn Palooza Flyer)
Park Lawn Palooza is not just a school event but a signature community event attracting over 800 attendees. Park Lawn Palooza features activities such as bouncy castles,  dunk tank, craft corner, face painting, BBQ, bake sale, and much more.
The event raises much needed dollars for our children's classrooms and school programs.
RYBL WILL BE COMMITTING A SILENT ACTION PACKAGE!
President's Message for 2017
Registration will again this year be 100% online at www.rybl.com.
For one evening only, Thursday, March 2nd, an in person registration and meet the President will be held at Tim Horton's on Islington Ave. just south of Bloor from 7:00 to 9:00pm; however, I encourage all to register and pay online.
We will continue to use ProTeach baseball instructors to provide ongoing skills' development for all players and coaches in April and throughout the early part of the season with on field assistance.

Royal York will again support the delivery of a summer baseball program in conjunction with ProTeach for Rookie and Mosquito aged players, commencing in July at a nominal cost.  Further information will become available in early May through communication directly with eligible players. Royal York and ProTeach will hold a week long baseball clinic at Queensway Park in mid August. Additional details will be circulated in late June.
The Women's Fusion team will again host a free baseball clinic for Girls in Rookie, Pee Wee and Bantam divisions on the last weekend in April at Queensway Park – more details to follow via email to players and on our website.
The League will continue to upgrade baseball equipment.  Please bring to the attention of your coach any substandard equipment and it will be replaced.  Constant vigilance by all is crucial to maintaining a safe playing environment for our children.
Your executive at the Royal York Baseball League was pleased to announce in July of 2015 that we received a Field of Dreams Grant from Jays Care Foundation for $150,000.00 to help offset the cost of constructing a new Bantam size, lit baseball diamond at Connorvale Park in south Etobicoke. In the fall of 2015, community consultation was completed and bid documents were finally issued in mid-March 2016, however, the contract was not awarded until September 2016.  A completion date is now scheduled for September of 2017, and our official opening will be in the spring of 2018.  Construction commenced in late November 2016; the diamond has been roughed in and all the baseline fence posts, backstop posts and outfield posts have been erected. I encourage all to visit Connorvale Park during 2017 to watch the diamond take shape and look at our major league diamond that already exists there.
The Royal York Baseball League will be investing resources into upgrading the field at Queensway South, Rotary Park, Westway and Connorvale Parks just in time for the 2017 playing season.  With the number of teams that play there, the diamonds are showing their age and upgrades are well past due.  The City has pledged to upgrade both diamonds at Lambton Kingsway Park, as well as the diamond at Norseman Park by the start of the 2017 season.Royal York continues their commitment to establish a strong baseball program for girls – "Baseball for Life'" – providing an opportunity for girls to play from Rookie ball through to the Women's.  In 2017 we will have girls Select teams for Mosquito and PeeWee.  In Bantam we hope to attract enough players to form an all-girls division and an all-star team from there will play in the Women's Division.
Rep and Select in 2016
2016 saw the inaugural establishment of a Girls Mosquito Select baseball team.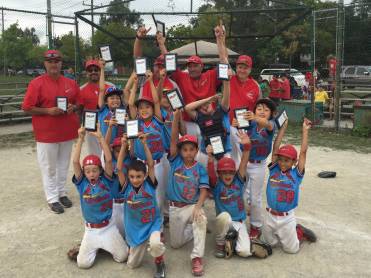 Participation in RYBL girls' baseball has continued to experience unprecedented rates of growth at all levels.  Registrations in houseleague increased significantly from 2015, and the all-girl Select teams which participate in the EBA Select Loop have become the premier program for development of elite-level female youth baseball players in Ontario.  In addition to top level baseball instruction and year-round training programs (indoor and outdoor), the girls program emphasizes the values of teamwork, commitment, dedication and a good work ethic. Peewee select girls in 2016 again saw our team competing against boys in the EBA Select Loop as well as attending a tournament in Orillia. While playing against boys is a tough matchup for the girls, they have never wavered in their support for each other and their love of the game. They are improving their skills on the field, while gaining self-esteem and confidence. 2017 will be a re-building year as a lot of our older players have moved to the next level. As an organization, we will continue to promote the sport across the province, in the hope that one day the girls will have, 'A League of Their Own'.
The Royal York Rep and Select program had another successful season in 2016.   Royal York brought home two Provincial Championships – Junior AA and Rookie Ball Select.
Royal York had three Toronto Champions (TBA) at the Midget AA, Midget A and Minor Midget A levels.  Royal York was also a TBA finalist at the Minor Bantam A and Minor Peewee A level.
At the Select level, Royal York was West Toronto Champion at the Bantam and Rookie levels and a Mosquito level finalist.
In all, seven Royal York teams represented Toronto at the Rep and Select level at the Provincial Championships in late August and over the Labour Day Weekend.
Royal York continued to succeed at the Provincial level with Midget AA being in the top four, Midget A in the top six, and winning two Provincial Championships.
In November the Women's rep team, Toronto Fusion, took the bronze at the 3rd Annual Vero Beach Tournament in Florida.
Congratulations to the Royal York Rep and Select programs; they continue to field competitive teams year after year in every age group.
For 2017
Finally – please consider coaching.  We need all the help you can provide.  Coaches' clinics will again be provided by ProTeach professionals in April, 2017. If Royal York Baseball is to continue to deliver the best programs in the City we need you.  We are the best because of our volunteers!
Please register early – as the Blue Jays had another exceptional year in 2016 – that means many more children will want to participate in baseball in 2017.  We were able to accommodate a 20% increase in registration in 2016 but we are now at our limit.  Register early to avoid disappointment.
Please register early online to ensure a place on a Royal York team and to take advantage of our Early Bird Special draw for a one-on-one training session for one player and two of his or her baseball friends with a ProTeach Professional Instructor at ProTeach's indoor facility early in the season!
Look forward to seeing you on the field!
Your President,
Alan Waffle
Shawna-Marie Harper receives Community Recognition Award
Shawna-Marie Harper receives award for outstanding volunteer service to the community from Yvan Baker, MPP Etobicoke Centre.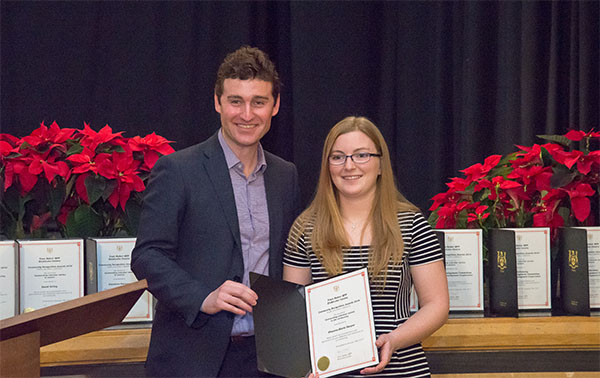 Royal York Cardinals Girls Baseball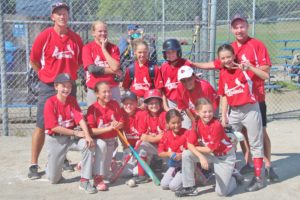 2017 Mosquito Select Team Tryouts
The Royal York Cardinals Girls Mosquito Select team, which plays in the 9-team West Toronto Mosquito Select League, will be holding try-outs for the 2017 season team on Sunday February 26, 2017 from 6 pm -7:30 pm, and Sunday, March 5, 2017 from 6 pm – 7:30 pm. Girls with the birth year 2005, 2006 or 2007 are encouraged to attend the try-outs for the 2017 team. Tryouts will be held indoors at the Etobicoke Olympium Complex in West Toronto. Those players who are offered a position with the team will take part in indoor training at the Etobicoke Olympium Complex on Sundays through March and April, 2017 followed by the Select League regular season which runs May – August 2017.

Johnny Gianfelice – Baseball Association's Volunteer of the Year
The Royal York Baseball League is happy to announce that our own Johnny Gianfelice, Convenor for Boys Mosquito Division, was nominated and won the Etobicoke Baseball Association's Volunteer of the Year award – congrats to Johnny – very well deserved indeed!!!
Alan Waffle,
President RYBL
Field of Dreams at Connorvale Park
Your executive at the Royal York Baseball League (RYBL) was pleased to announce in 2015 that we have received a Field of Dreams Grant from Jays Care Foundation for $150,000.00 to construct a new Bantam size lit baseball diamond at Connorvale Park in south Etobicoke. That grant along with $25,000.00 from Humber College, a contribution from your league and $750,000.00 from the city insured that our new diamond would be constructed. I am pleased to announce that community consultation was completed in December 2015 and bid documents will be issued in mid January with a completion date scheduled for September of this year. However, our official gala opening will take place in the spring of 2018.
Pro Teach Baseball
Throwing Program, Instructional League, Travel Team, Indoor Sessions. Click here for details.
RYBL Baseball Programs!
RYBL offers recreational and competitive baseball programs for boys and girls ages 4 and up. Baseball Divisions include: Co-Ed Blastball, Co-Ed T-Ball, Girls Rookie, Boys Rookie, Boys Mosquito, Girls Pee Wee, Boys Pee Wee, Girls Bantam, Boys Bantam, Boys Midget, Womens and Junior & Older Boys.