The 2017 baseball season is officially over!
I hope that both players and coaches had lots of fun and all the activities created may good memories and fireside winter stories. Planning for the 2018 season is currently underway by your executive. 2018 Houseleague Registration commences online in mid January 2018!
Have a safe and wonderful fall and winter – see all back in the spring of 2018!
Your President,
Alan Waffle
Athlete of the Week, Paige Allen, throws out ceremonial first pitch at Jays game!
Thirteen-year-old Paige Allen, a player for the Royal York Cardinals and one of our Athletes of the Week, got to throw out the ceremonial first pitch at the Jays game Wednesday night. Watch video.
Pro Teach Blue Bombers 2017 Champions!
Going undefeated in the 17 team double elimination Rookie Ball House League Playoff Tournament, the Pro Teach Blue Bombers are the 2017 Champions!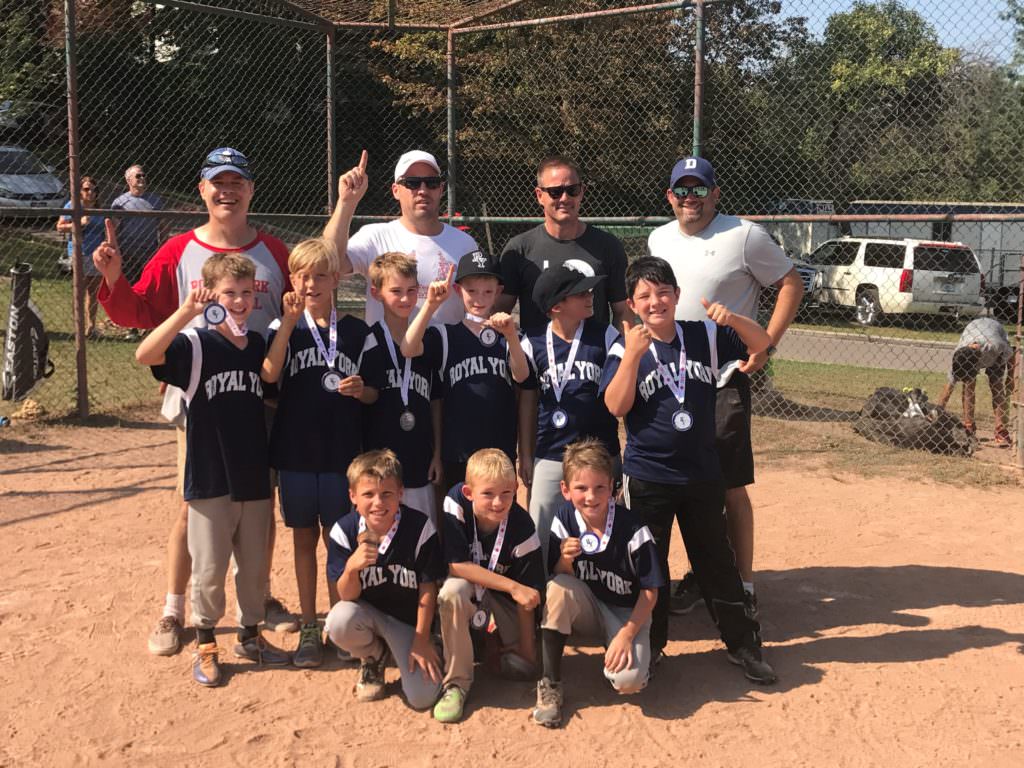 Midget AA Cardinals win the 2017 Midget AA OBA Championship!
Congratulations to our Midget AA Cardinals on winning the 2017 Midget AA OBA Championship. They finished their weekend with a 5-1 record, including a 5-0 win over Kitchener in The Final. This is Royal York's first ever OBA Championship at the "Midget AA" level and third OBA title in the last four years. Best of luck to Head Coach, Kyle Liberto, who is now moving over to The Etobicoke Rangers to coach The 15U Bantam Elite Program. GO CARDINALS GO!!!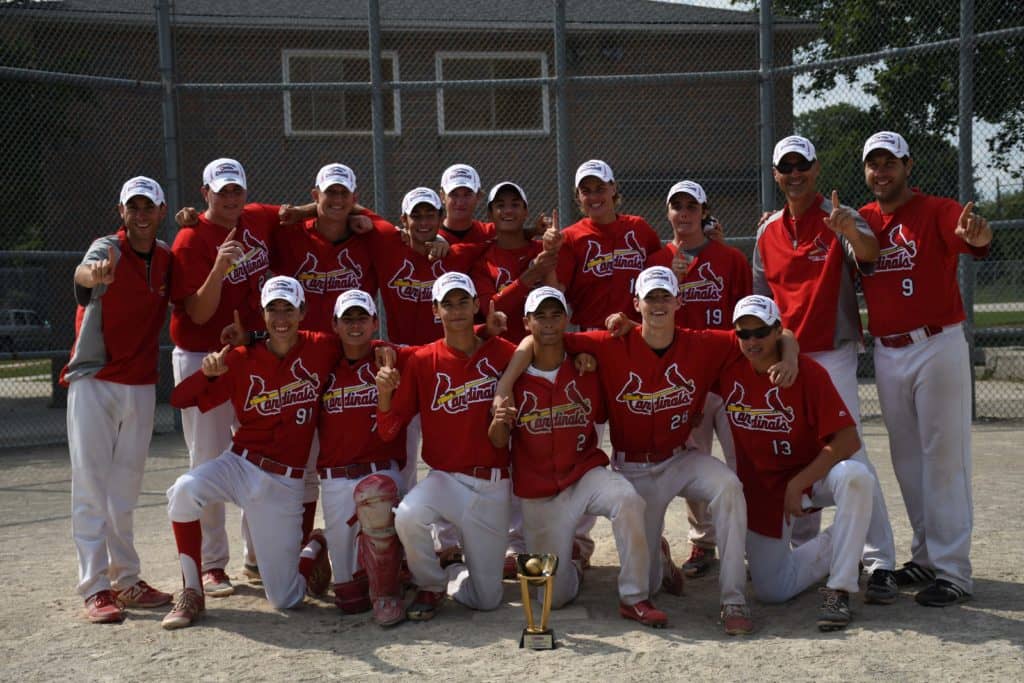 Mosquito Select Girls 2017!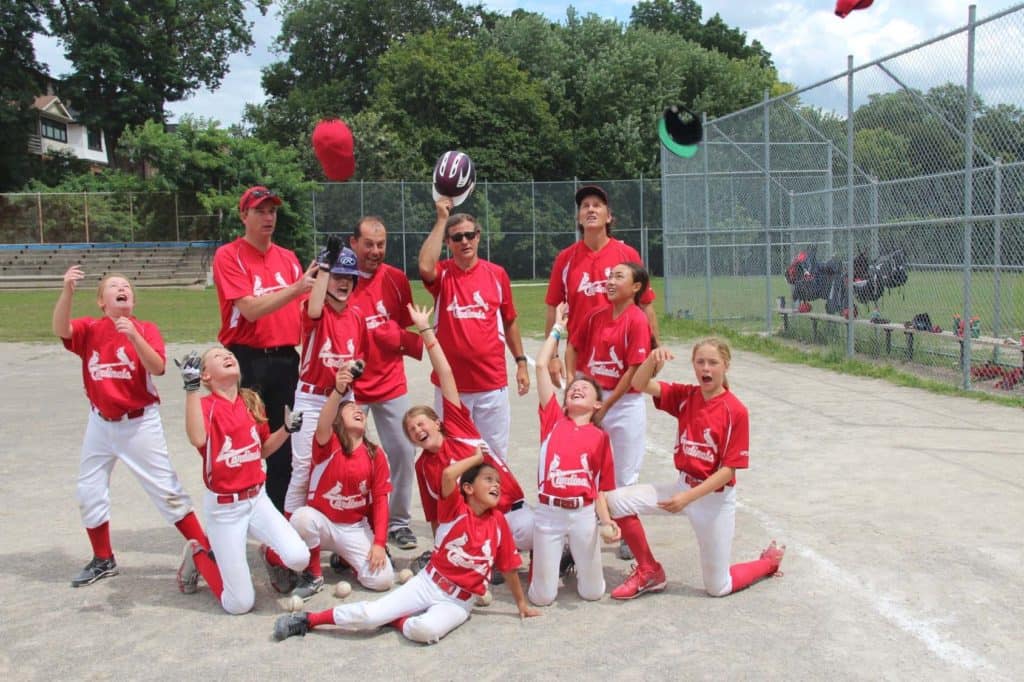 Minor PeeWee AA City Finalists!
The Royal York Minor PeeWee AA team played like a Major League team this weekend in an extremely competitive and hard fought TBA championships. The '05 Cardinals capped off the weekend with City Finalist honours and a berth in the upcoming OBAs Provincial Championships. Congratulations boys on what has been a successful summer of baseball and fun in the sun!
Peewee Select Boys have a fantastic season!
The RYBL Peewee Select Boys had a fantastic season and were very successful this past weekend at the EBA Baseball Playoffs, coming in second place after a very tense and well played Final game.  Congratulations to the team for all their hard work and commitment to their fellow teammates!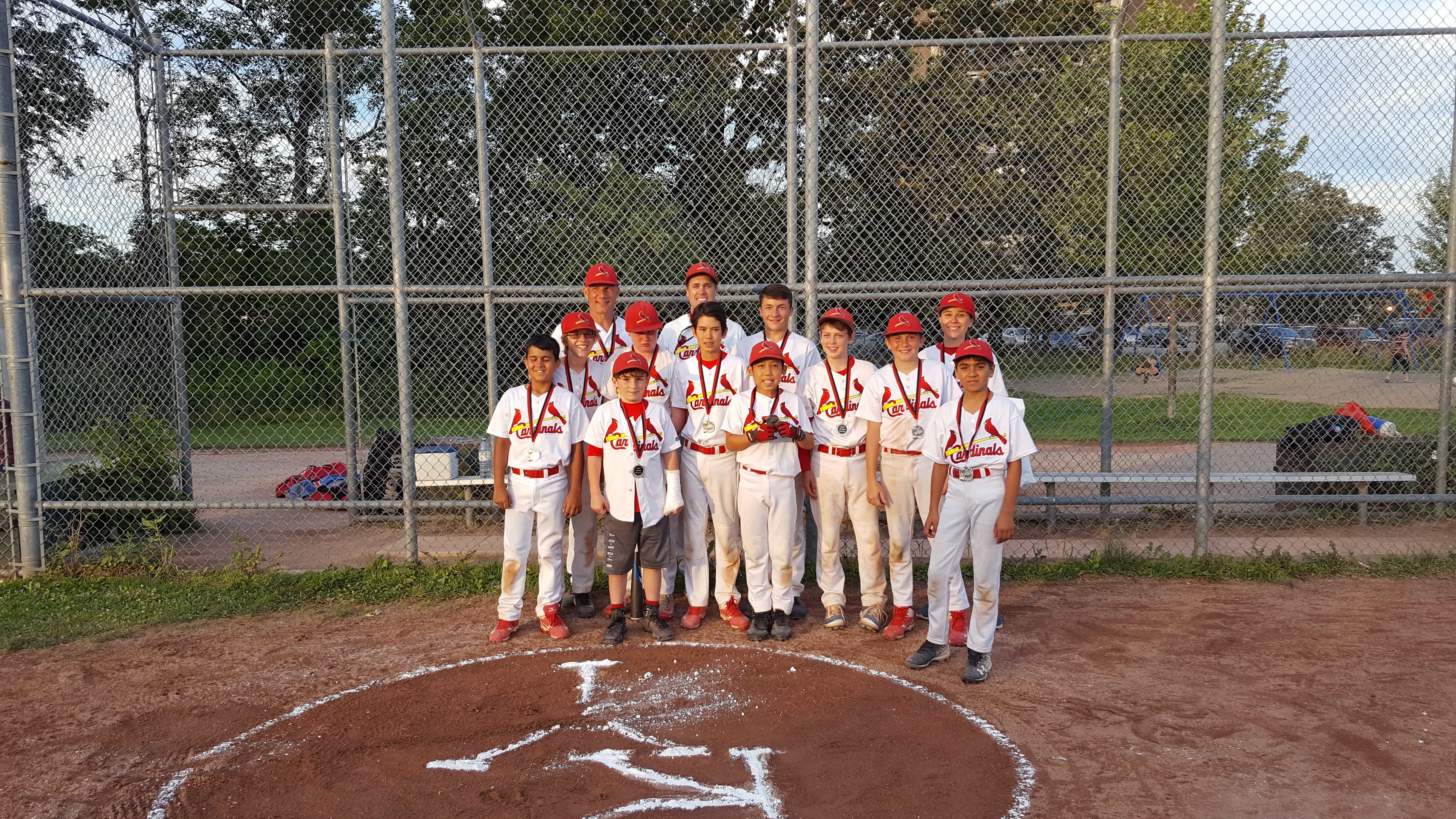 Paige Allen is Athlete of the Week!
Click to watch video: http://www.citynews.ca/video/2017/07/31/athlete-of-the-week-paige-allen/
RYBL Midget A Champions of Mississauga Majors Tournament!
RYBL Midget A team won the Mississauga Majors tournament this past weekend. Winning 5 straight games while outscoring our opponents 25-5. The final was a battle of team pitching aces and we won 1-0 – very intense and exciting. Thanks to our awesome players and families for a fantastic weekend.
Good luck to ALL of our CARDINALS teams – the rest of the way!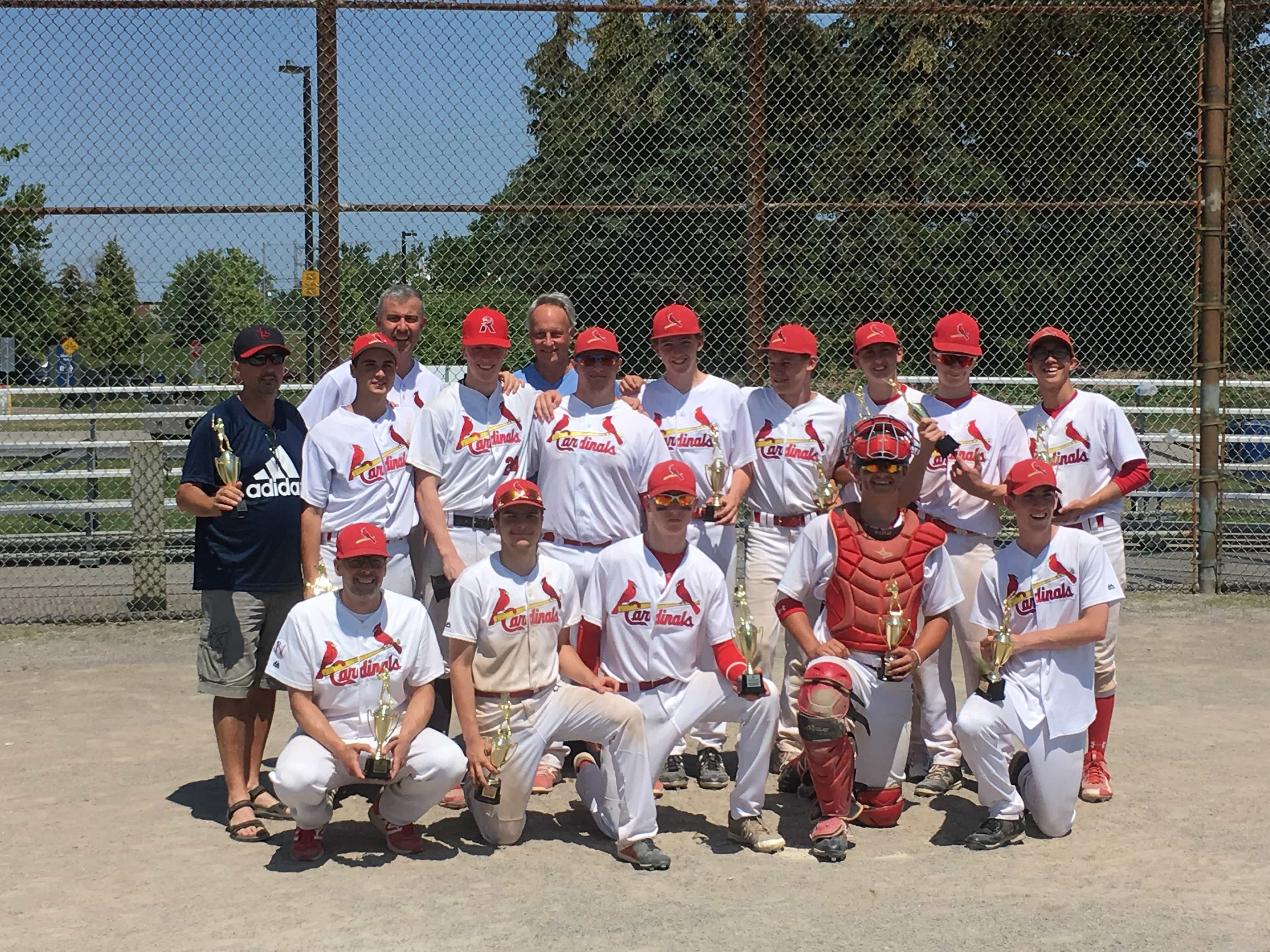 Girls PeeWee Cardinals playing in the USA – League of their own city!
Click to watch video: http://www.citynews.ca/video/2017/08/01/video-toronto-girls-baseball-team-travels-to-illinois-to-participate-in-u-s-nationals/

RYBL PeeWee Select Boys Champions of MBSA Tournament!
The RYBL peewee select boys were the champions of the MBSA tournament this past weekend. They faced some tough competition – mostly Rep A teams – and fought back from some daunting deficits. The coaches were impressed that they showed a lot of character and stayed positive throughout, and would like to congratulate their players on their hard won success!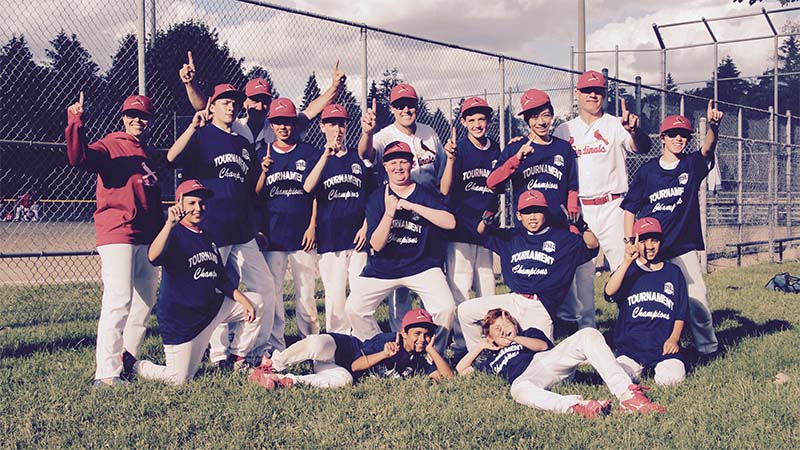 "Slugger" – the new name of Royal York Baseball's mascot!
Congrats to Ellie, the winner of our Name the Mascot contest! She plays girls Rookie Ball and has two older brothers who play with Royal York as well. Her favourite positions are catcher and shortstop and she wants to be a "Slugger" too.

RYBL continues to support the Challenger Program
With weekly games at Queensway South – come out and watch! View Challenger Schedule 2017.
Owen Peterson cranking up the heater!
Girls Pee Wee All Star game a huge success!
The girls Pee Wee All Star game was a huge success this past Saturday June 17th.
A perfect morning, we announced all the players which were comprised of the four pee wee teams.  We also announced the fabulous women coaches from the Toronto Fusion Baseball team who volunteered their time to this event.  After the anthem, we had a ceremonial first pitch from RYBL alumni Jessica Brigham who has come to various practices to help develop the girls pitching and catching.  Greg Harper of the Toronto Fusion team ran a pitching clinic for girls that were not involved in the all star game but are players within the division.  It was a great baseball game, we played four fabulous innings with monster hits, double plays and there was amazing pitching and catching.  Several spectators remarked about how remarkable the skill level was with this game!
The teams were evenly matched and the final score was 8-7 in favour of the red team.  The mvp awards went to Alicia Unwin of the Blue team and Emma Howarth of the red team.
Following the game the girls enjoyed a BBQ lunch and we quickly moved into the skills competition which was comprised of the longest hit, farthest throw and fastest base running.  Our winners for this event were:
Cailyn Bentley for the longest Bat
Ainsley Lane for the longest throw
Jesslyn Bach for the fastest base runner
This event was a huge success because of the volunteers that helped run it.  It is always a thrill to measure the success of the event with the smiles on the girls faces.  It was a super day and I want to thank the people that made this possible.
Alan Waffle president of RYBL who funded a great portion of this game with the awards and food.
Ryan Babiak of Now Destinations who sponsored our t shirts for the game.
Kylie, Rachel, Alana, Janet, Maureen and Shawna-Marie of the Toronto Fusion Team who devoted their time and skill to this game.
Greg Harper of Toronto Fusion who ran the pitching clinic during the event.
Jeri Tremble who managed all of the cooking and food distribution as well as the general set up.
Jessica Brigham with her ceremonial first pitch.
All the Pee Wee coaches that devoted their morning to ensure that this was a huge success: Piyush Gandhi, Kyla Pyndiura, Brian Stevenson, Andrew Bentley, Rick Haslam, Derek Allen, Alex Jimenez
Laney Wells who was our photographer for the morning.
Thank you for all your help, girls in sport is a great thing!!
Karen Proctor
Convenor
Girls Rookie All Star Game 2017
Before the All Star game would begin, we sparked up the BBQ and kicked back to enjoy four Skills events that were open to all RYBL Rookie Girls. First up was the Accuracy Throwing competition. From 35 feet away, the girls lined up to hit a target behind home plate in a closely contested match-up that came down to a tie breaker that was finally won by Chase Buckland of the Black Mustangs. Next up was the Fastest Runner competition where the girls were timed as they sped around all of the bases. In another close competition, Alejandra Dovale-Puig of the Green Gators took the title as Fastest Runner. The Distance Throwing competition was next where Meg Lipscomb of the Green Gators showcased a phenomenal arm by nearly throwing the ball 100 feet to take the Distance Throwing title. And finally, in her first year of baseball Bronach O'Neil King of the Black Mustangs not only made the All Star game, but she also won the Home Run competition by hitting two round-trippers.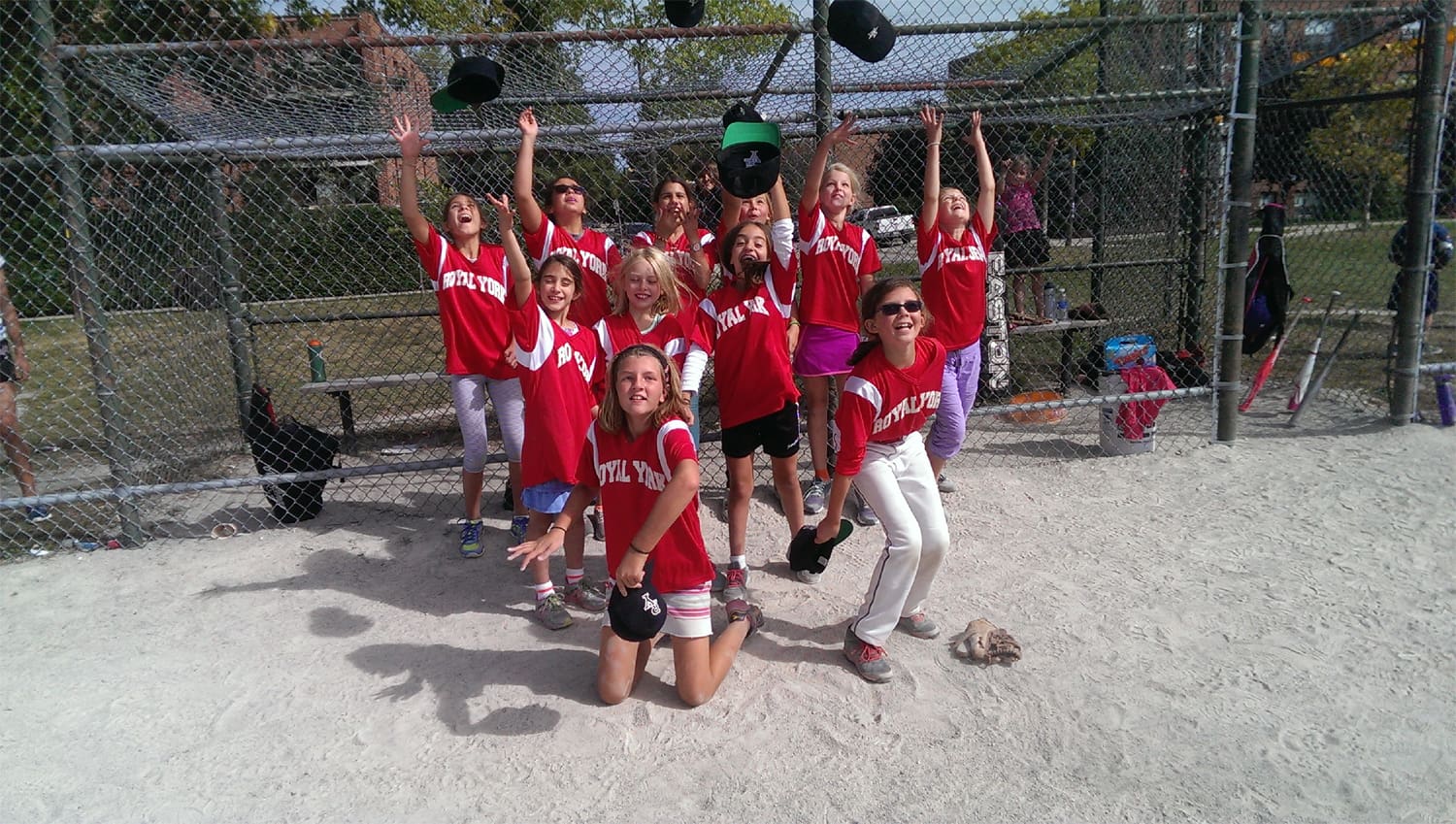 With everyone enjoying hamburgers and hotdogs and the excitement of the Skills competitions still buzzing, we kicked off the All Star game. The All Star participants were split into Team Red (consisting of players from the Foxes/Gators/Lions) and Team Blue (Mustangs/Dolphins/Pandas) with guest coaches Anisha and Vicky from the Toronto Fusion leading the teams respectively. Right from the start, it was clear that these girls all belonged on this stage. A remarkable game that included slick double-plays, monster home runs and clever slides came down to the last batter; Meg Lipscomb with the bases loaded. Saving her best for last, she crushed a ball deep to left field for the Walk-Off Game Winning Grand Slam lifting Team Red to a 20-18 victory. This earned Meg the Team Red MVP, while Genevieve Ezman of the White Pandas earned the MVP nod for Team Blue.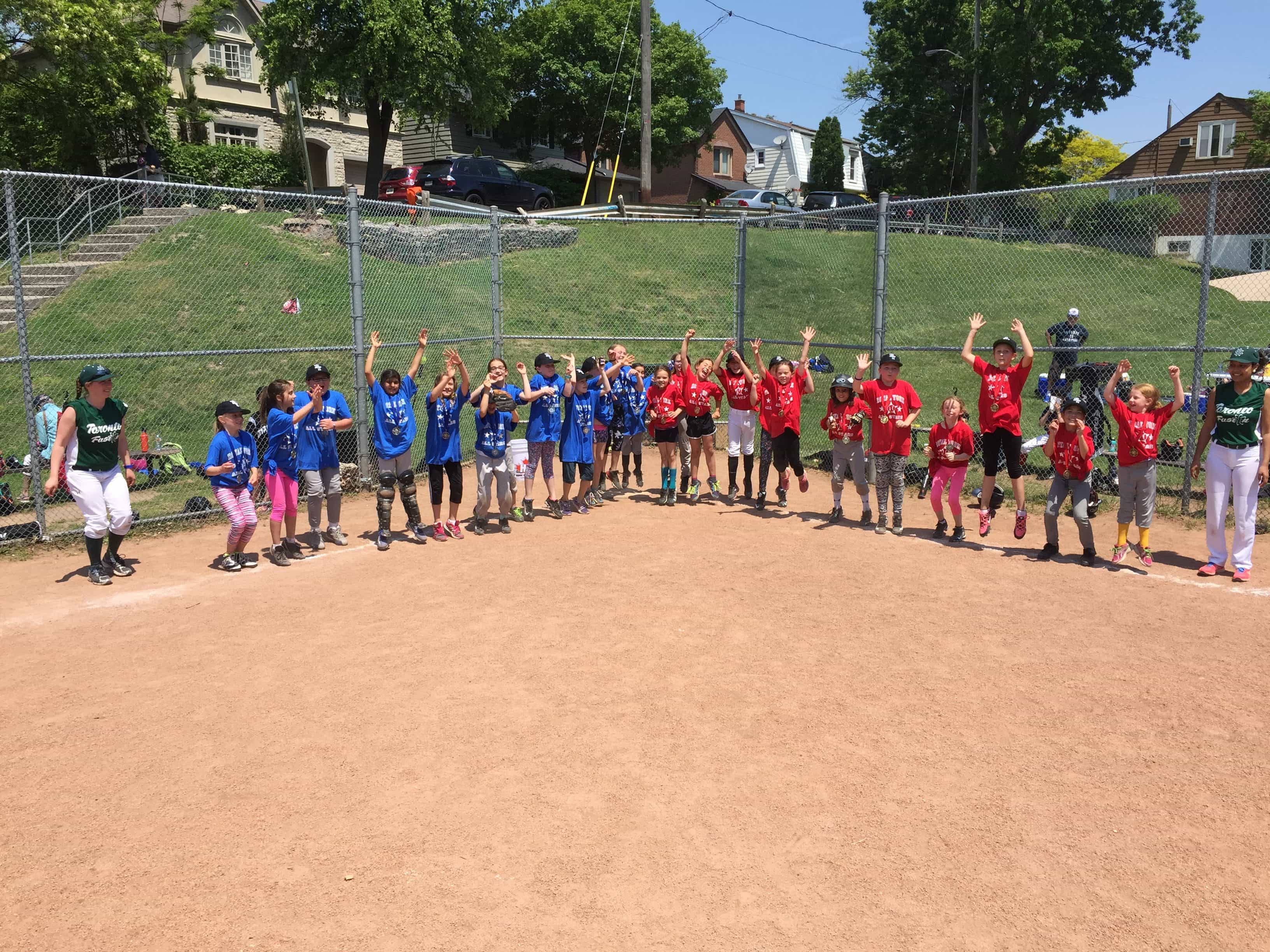 What a fitting ending to a fantastic afternoon of baseball.
Thank you to the people that made the afternoon a success: our sponsor Now Destinations, Vicky and Anisha from the Toronto Fusion, our coaches/volunteers (Philippe Buckland, Debbie Bland, Keith Bland, Diane Chambilomatis, Paul Lewicki, Jim Cardone, Carrie Lavack).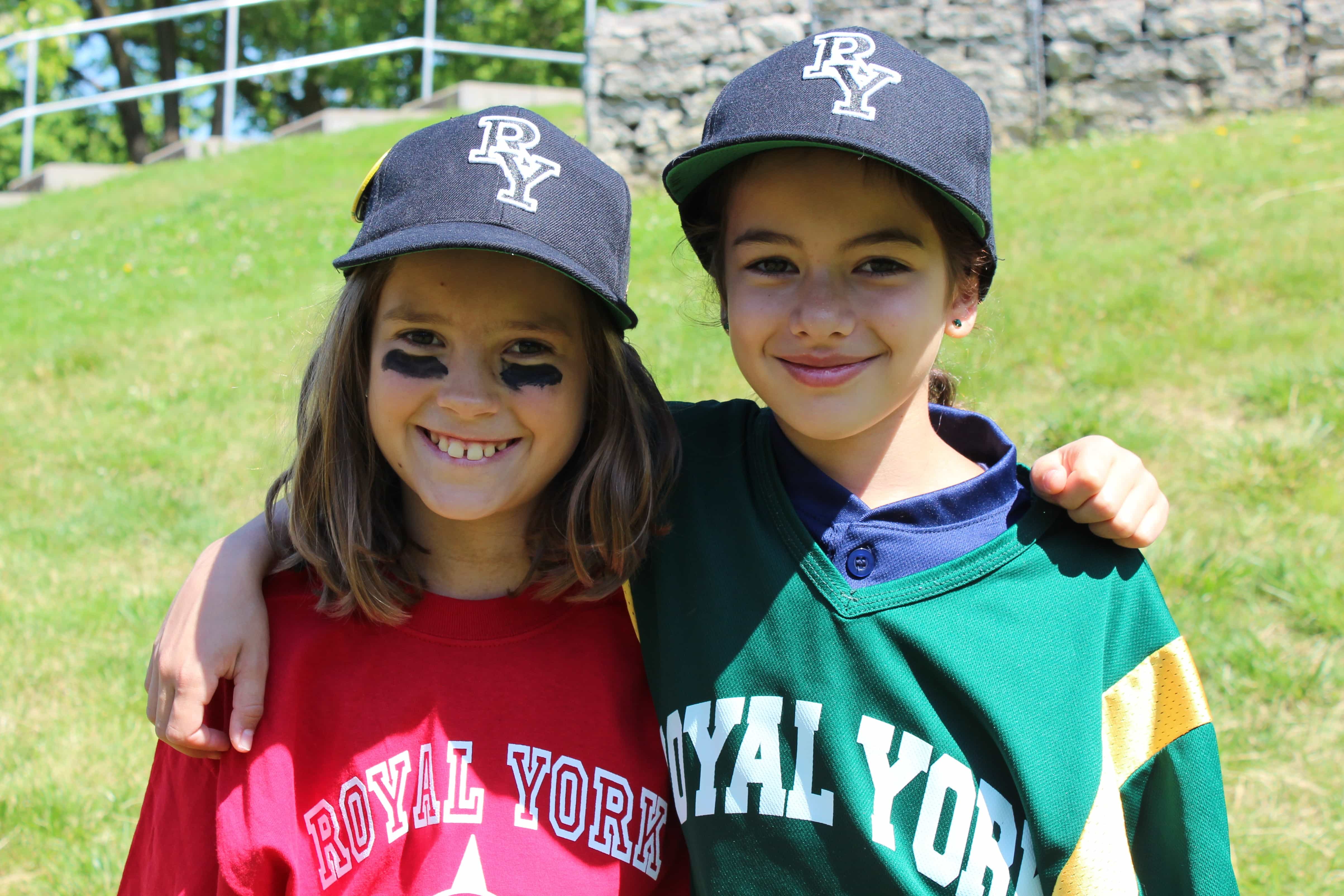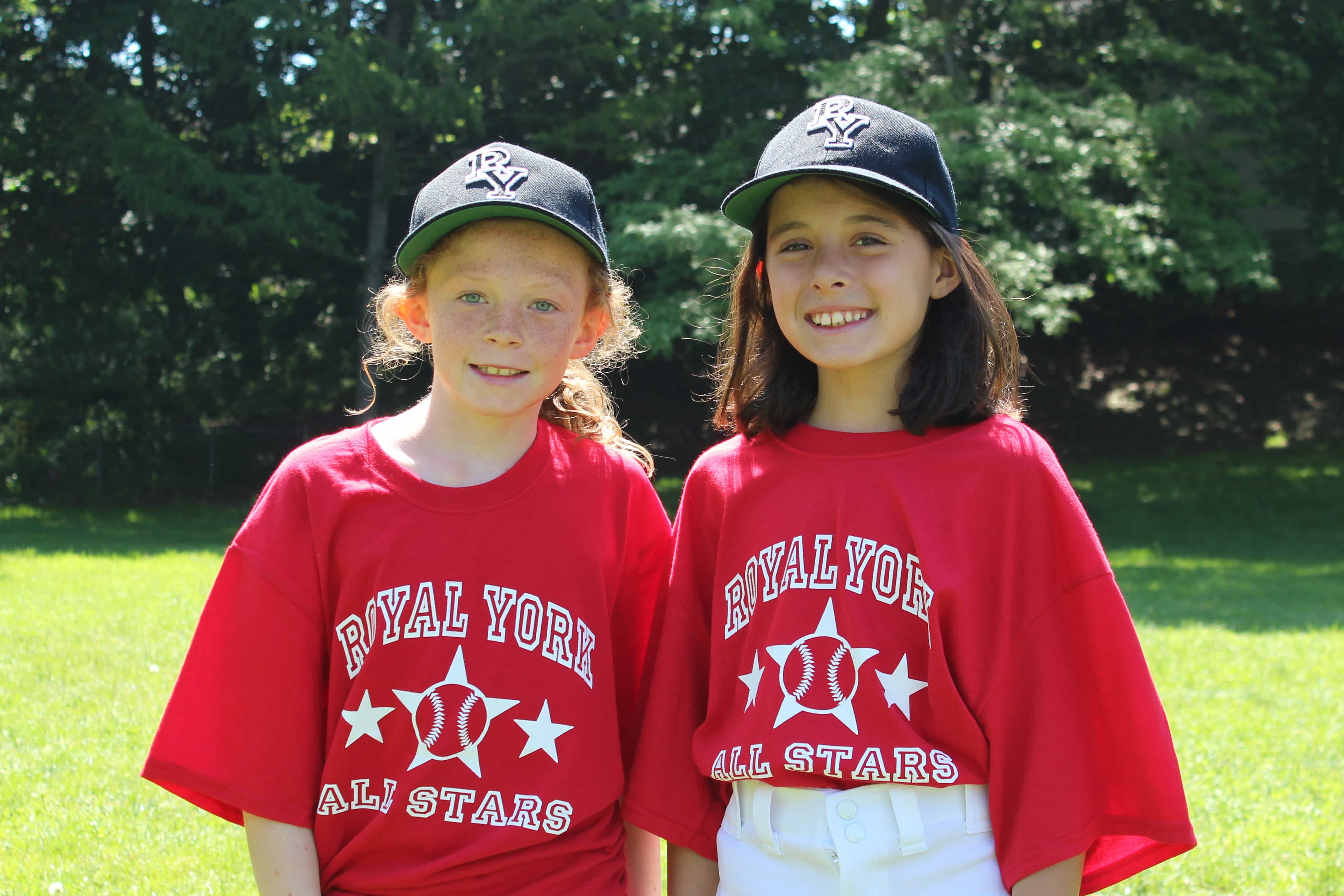 And a big congratulations to the girls who made the All Star game this year. 
Accuracy Throwing Champion: Chase Buckland
Fastest Runner: Alejandra Dovale-Puig
Distance Throwing Champion: Meg Lipscomb
Home Run Champion: Bronach O'Neil King
All Star MVP Team Red – Meg Lipscomb
All Star MVP Team Blue – Genevieve Ezman
| | | | | |
| --- | --- | --- | --- | --- |
| Red Team | | | Blue Team | |
| Alejandra Dovale-Puig | Green Gators | | Chase Buckland | Black Mustangs |
| Sloane Hayball | Green Gators | | Abbey Beldycki | Black Mustangs |
| Sophie Keenan | Green Gators | | Bronach O'Neil King | Black Mustangs |
| Meg Lipscomb | Green Gators | | Taylor Boyle | Black Mustangs |
| Taylor Stephens | Red Foxes | | Emma Hoy | Blue Dolphins |
| Lily McBride | Red Foxes | | Allison Cardone | Blue Dolphins |
| Bea Pellar | Red Foxes | | Tara Deckha | Blue Dolphins |
| Charlotte Restrepo | Red Foxes | | Tatiana Drozd | Blue Dolphins |
| Ainsley Sherwin | Yellow Lions | | Sophia Bennett | White Pandas |
| Amanda Marchetti | Yellow Lions | | Mary Primeau | White Pandas |
| Samantha Freeman | Yellow Lions | | Sonja Zile | White Pandas |
| Jaime Nerlich | Yellow Lions | | Genevieve Ezman | White Pandas |
Vinh Tran
Girls Rookie Convenor
Not getting enough reps in?

Two or three at at bats a game not enough? Come to our spring skills and drills classes. Pick from Monday, and Wednesday 5-6pm or Sunday's 11-12pm. These 8 week classes are for players 6-8 and 9-12 years old. The cost is $169 for 8 weeks. Click here for more information.
Girls' Day a huge success for the RYBL Mascot's debut!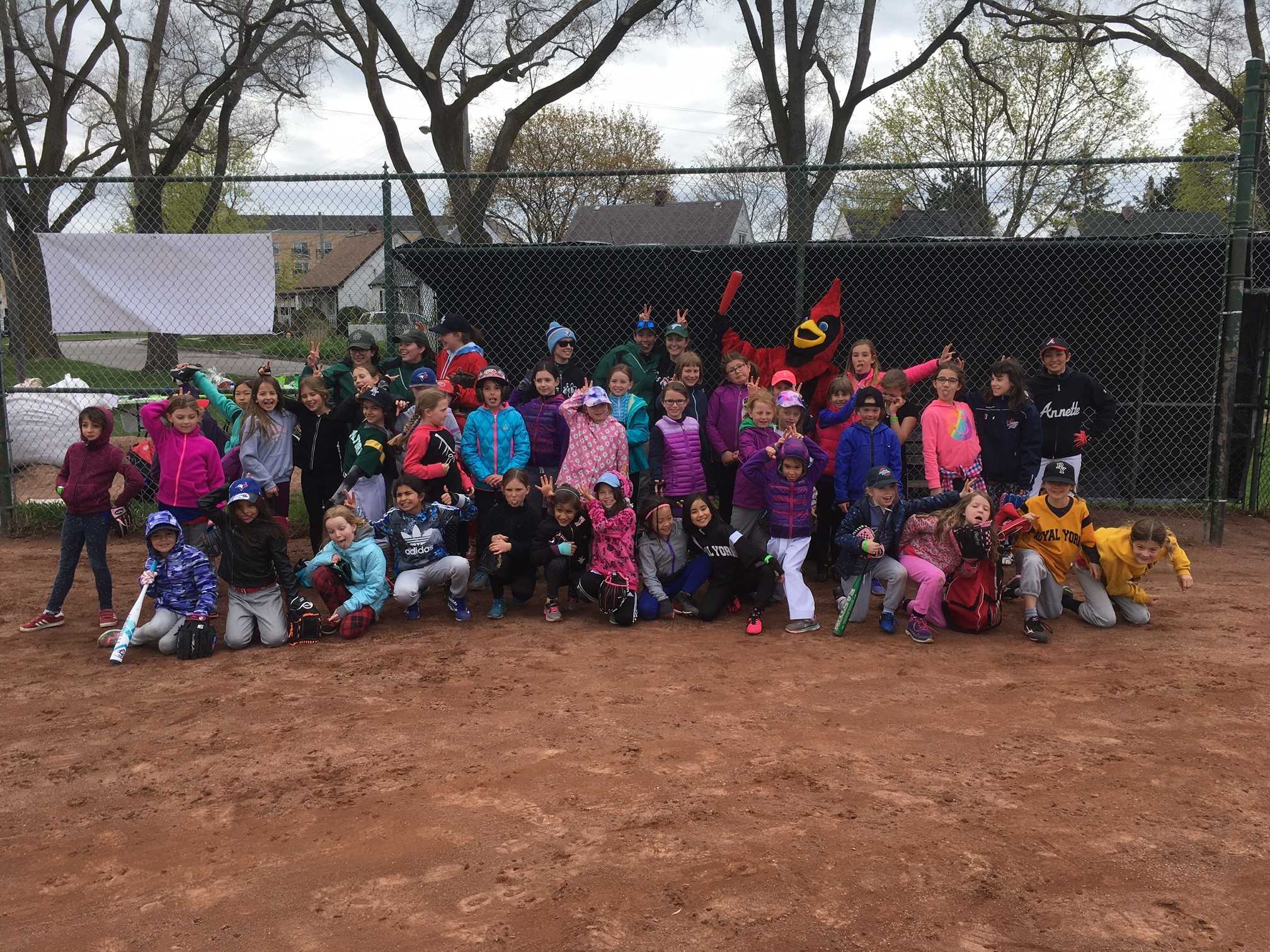 Shawna-Marie Harper receives Community Recognition Award
Shawna-Marie Harper receives award for outstanding volunteer service to the community from Yvan Baker, MPP Etobicoke Centre.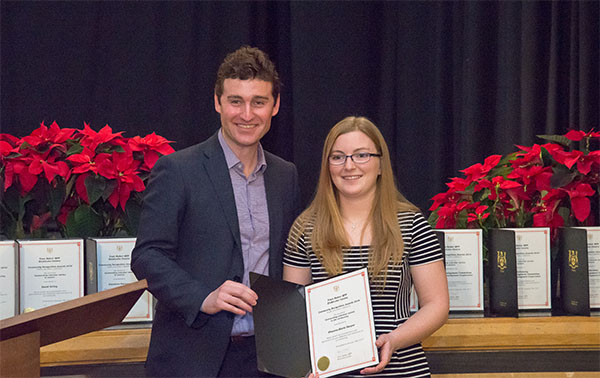 Johnny Gianfelice – Baseball Association's Volunteer of the Year
The Royal York Baseball League is happy to announce that our own Johnny Gianfelice, Convenor for Boys Mosquito Division, was nominated and won the Etobicoke Baseball Association's Volunteer of the Year award – congrats to Johnny – very well deserved indeed!!!
Alan Waffle,
President RYBL
Field of Dreams at Connorvale Park
Your executive at the Royal York Baseball League (RYBL) was pleased to announce in 2015 that we have received a Field of Dreams Grant from Jays Care Foundation for $150,000.00 to construct a new Bantam size lit baseball diamond at Connorvale Park in south Etobicoke. That grant along with $25,000.00 from Humber College, a contribution from your league and $750,000.00 from the city insured that our new diamond would be constructed. I am pleased to announce that community consultation was completed in December 2015 and bid documents will be issued in mid January with a completion date scheduled for September of this year. However, our official gala opening will take place in the spring of 2018.
Pro Teach Baseball
Throwing Program, Instructional League, Travel Team, Indoor Sessions. Click here for details.
RYBL Baseball Programs!
RYBL offers recreational and competitive baseball programs for boys and girls ages 4 and up. Baseball Divisions include: Co-Ed Blastball, Co-Ed T-Ball, Girls Rookie, Boys Rookie, Boys Mosquito, Girls Pee Wee, Boys Pee Wee, Girls Bantam, Boys Bantam, Boys Midget, Womens and Junior & Older Boys.