Johnny Gianfelice – Baseball Association's Volunteer of the Year
The Royal York Baseball League is happy to announce that our own Johnny Gianfelice, Convenor for Boys Mosquito Division, was nominated and won the Etobicoke Baseball Association's Volunteer of the Year award – congrats to Johnny – very well deserved indeed!!!
Alan Waffle,
President RYBL
Haiti thanks RYBL for donation!
Royal York Baseball donated bats, balls and other equipment to children in Haiti this year to help them enjoy the love of the game.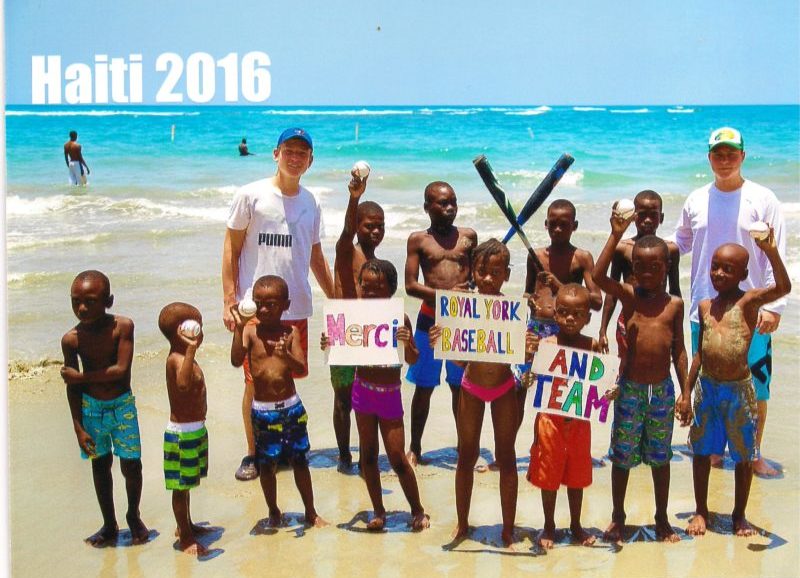 Baseball For All!
This video is a promotional video, made for Baseball For All (www.baseballforall.com). It was made to raise awareness for girls baseball (not softball). This past summer, 4 girls from RYBL joined up with 9 girls from Quebec, to form a Canada Natives team to compete in San Francisco at the Baseball For All national tournament. At about the 14 second mark of this video, Dawn Nichol and Sandrine Ballez from RYBL, are shown cheering.
Royal York's Rookie Select Provincial Champs!
After narrowly defeating an extremely strong Bloordale Bombers team in a hard-fought final game for the EBA Championships, Royal York's Rookie Select team (the Cardinals) represented EBA in the Ontario Provincial Championships this past Labour Day weekend.
The Cardinals won six straight games to claim the Championship, defeating Kitchener, Guelph, Dorchester, Peterborough, Leaside and Barrie in the Finals.
The 2016 RYBL Cardinals Select Team is proud to carry on the outstanding tradition of strong EBA Rookie Select Teams in this Championship, and extends its thanks both the EBA and The Royal York Baseball League for their strong support.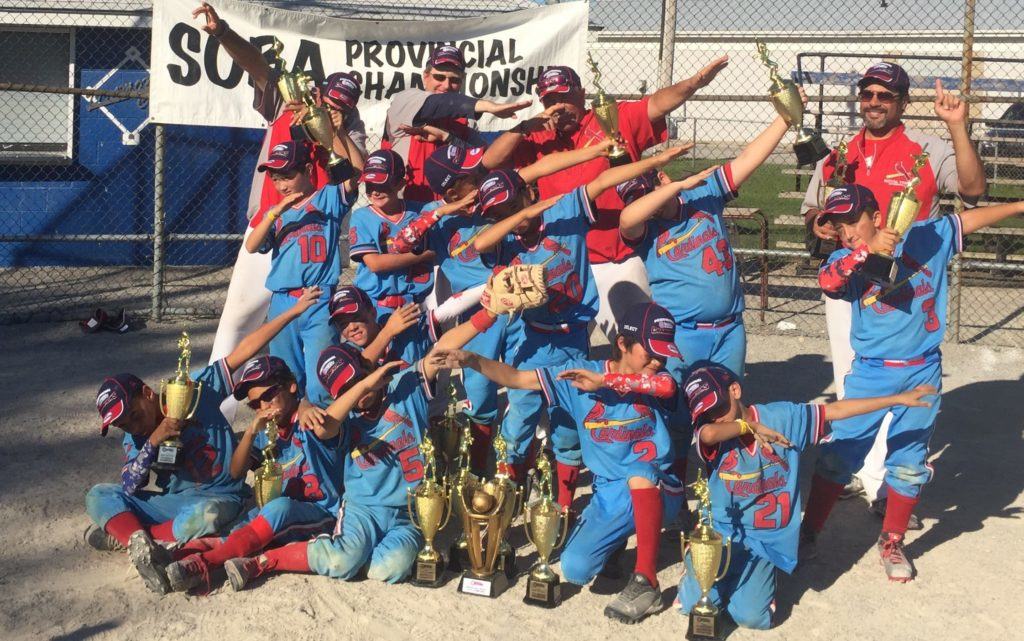 Minor Bantam A TBA Finalists
Minor Bantam A are TBA Finalists for 2016. Falling just short of repeat. The team had a weekend of excellent pitching, stellar defence and timely hitting. They are now off to the OBA's in Thornhill.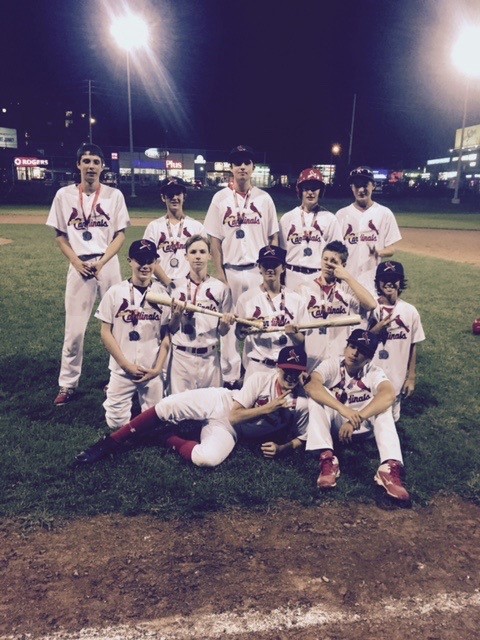 RYBL's Bantam Select win EBA championship in 5 games
The Bantam Select team won the EBA championship in 5 games. The team was down one game on Friday night but battled back on Saturday to win both games. On Sunday they played Martingrove back to back, winning the first game by 3 runs and taking the final game with a 10-0 mercy to take the championship. It was a fun and exciting weekend of baseball and they look forward to the Provincials.
A huge 'thank you' and commend Kyle Liberto for all of his hard work this weekend convening the Bantam finals – he did a great job!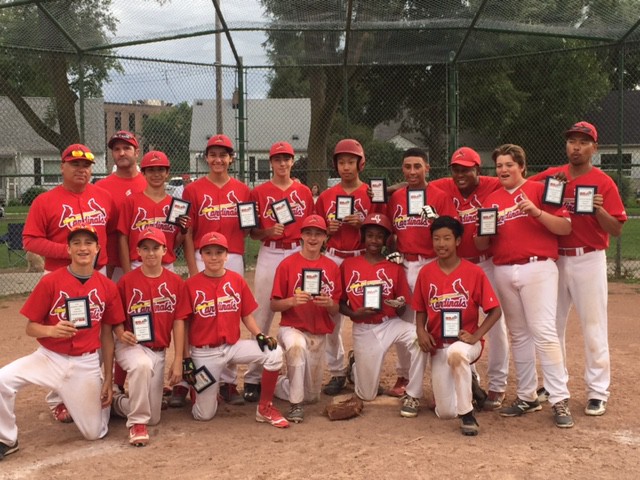 Royal York Minor Midget A team finishes 1st in TBA's
The team finished second in the regular season, yet beat the #1 North York team twice (double knock out) to clinch first place. The pitchers were excellent and the bats were swinging – right through the lineup. Great team effort. Next, heading to the OBAs on Labour Day. Coaches: Daryl Keating, Brian Moore and Mike Burke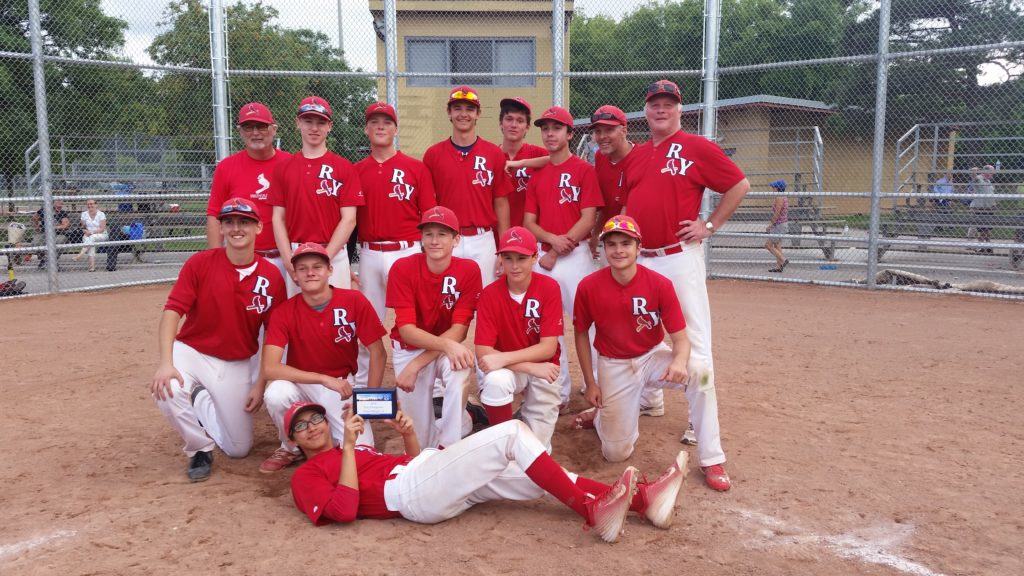 Cardinals Rookie Select wins EBA Championship!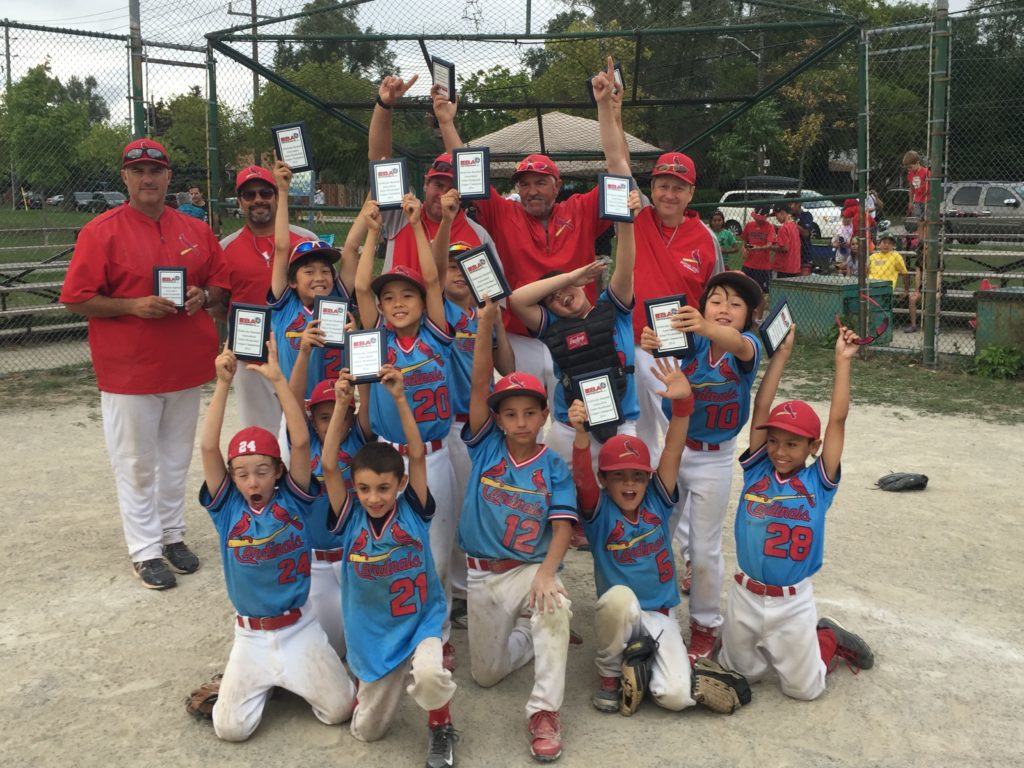 Royal York Midget AA wins TBA Midget AA Championship
Royal York Midget AA team had a successful weekend at the TBA Midget AA playoffs.
Nothing could stop the Royal York Midget AA team this weekend – neither rain nor heat slowed this team down. Seven teams battled it out this weekend for the TBA Midget AA Championships and Royal York Midget AA finished off with a perfect record, defeating Scarborough 10-3 in the finals.
The defense, pitching and timely hitting was the winning combination – outscoring our opponents 42-11 over the weekend. A great team effort!
Congratulations to the players, coaches and all its supporters. The team is now off to the Ontario Baseball Association (OBA) Midget AA Championship playoffs on August 26-28 in Brantford.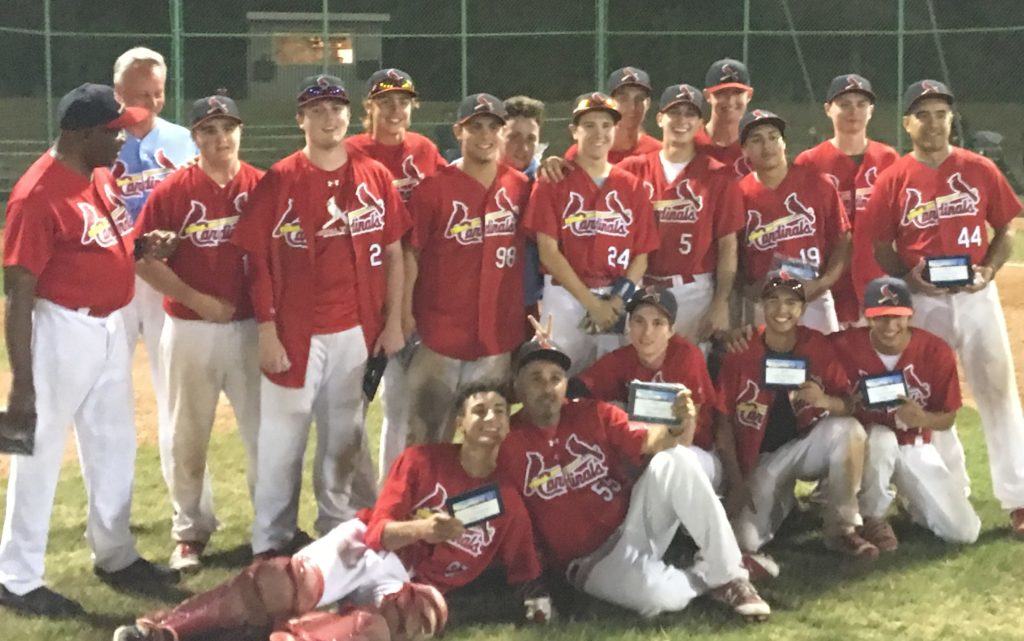 1st Annual Royal York Cardinal Classic Minor Bantam Tournament
During the weekend of August 5-7, the Royal York Cardinals Minor Bantam A team hosted RYBL's first ever OBA tournament.
Twelve teams came from around the province to compete at Tom Riley, Queensway and Ourland. Competition was fierce as teams fought for one of the 4 spots available for Playoff Sunday. Royal York did well in the Round Robin finishing with a 2-0-1 record. We lost a close game in the Semi-Finals to the eventual Champion Essex Yellow Jackets.
The tournament was a great success. Thanks to all the volunteers that stepped up and donated their weekend. The diamonds have never looked better.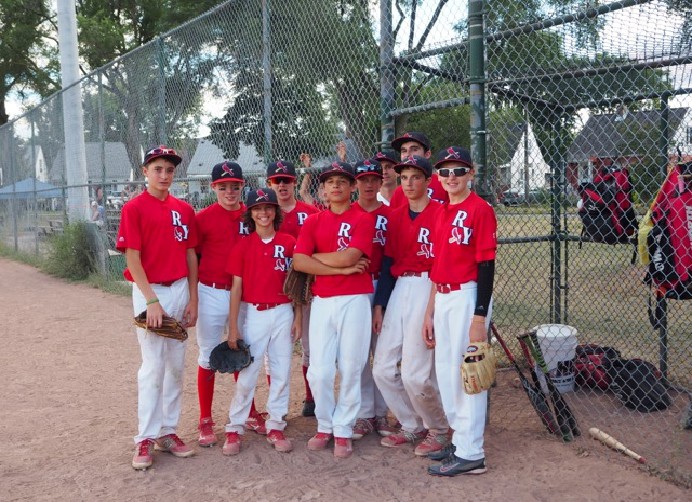 Kate Psota participates in Royal York Girls Cardinals Mosquito Select team practice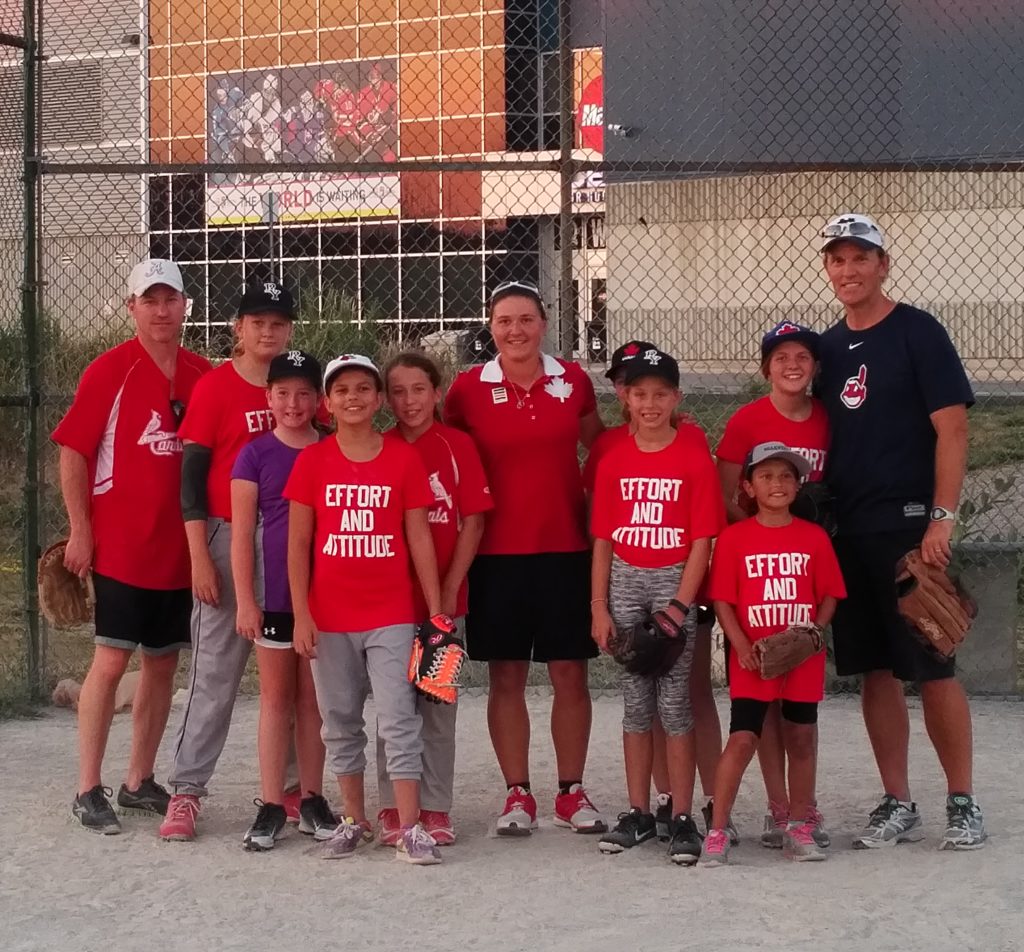 Canadian Women's National Team player Kate Psota participated in the Royal York Girls Cardinals Mosquito Select team practice on Friday August 5, 2016. Kate has represented her country on the international stage for a number of years, including several World Cups and the 2015 Pan-Am Games, where she took home a silver medal. Psota was National Team MVP in 2009 and 2010, and a World Cup all-star at first base in 2010 and 2012. In addition to providing skills instruction, Kate also spoke with the girls about her journey in women's baseball and how to work effectively toward success at the highest levels of the sport.
Cardinals girls team holding try-outs for its 2017 team this September
The Royal York Cardinals girls team, which plays in the 9-team West Toronto Mosquito Select League, will be holding try-outs for its 2017 team in September, 2016. Girls with birth year 2005 or 2006 are encouraged to attend the try-out for the 2017 team. Details of the tryout date and location will be available on the Royal York Baseball website. Indoor training for the 2017 team will take place at the Etobicoke Olympium beginning in February.
Royal York Midget AA wins the Guelph Midget AA tournament
Royal York Midget AA team had a successful weekend at the Guelph tournament.
Royal York battled Niagara Falls to win 5-4 in extra innings in the semifinals to set up a showdown with fellow Etobicoke rival Martingrove. Royal York came out swinging in the finals to take an early lead and never looked back. The defense and pitching were great to take down Martingrove 10-0 in the finals to bring home the Guelph Midget AA tournament Championship. A great team effort!! Congratulations to the players, coaches and all its supporters.

Mosquito Select Boys finished first in the Mississauga South Baseball Association tournament!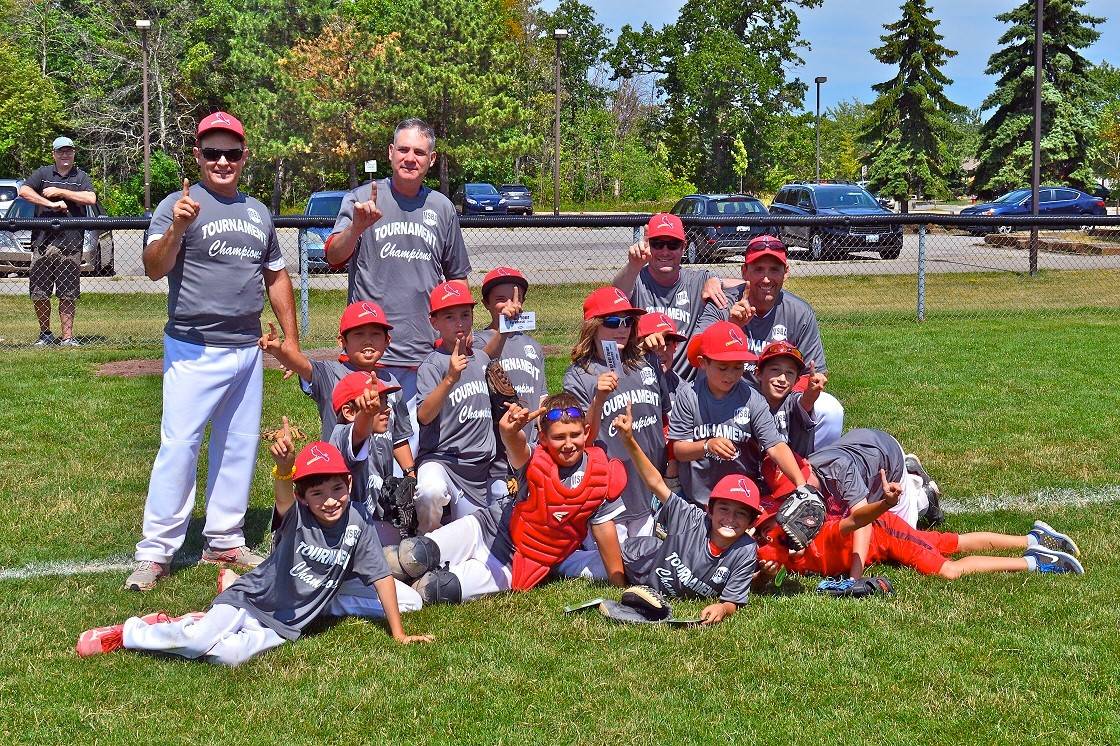 Baseball Summer Camp opportunities with Proteach!
Camp Weeks
Camps will run specific weeks of June, July and August (including holidays)
Players will have the option of baseball and/or multi-sport each day
1:6 Instructor to Player Ratio
Free Swimming from 2:30pm-3:30pm is optional for all campers
Times
Camps runs 9:00am-4:00pm
8:30am drop off and extended pick to 4:30pm at no charge
Half-day option of 9:00am-12:00pm or 1:00pm-4:00pm
Pick up after 4:30pm can be arranged
For more information, click here.
FAIR PLAY – Female Baseball: Natives Canada
A video (see below), which is in French, features 5 girls from RYBL who will be joining 9 girls from Quebec to form a team called Canada Natives at the upcoming girls baseball nationals in San Francisco this summer. They got together last week in Quebec City to meet and practise together for the first time. The team will be coming to Toronto for a similar weekend at the end of June or early July. Gary Elliot, from Royal York Baseball, has been helping coordinate things from the Toronto end.
RYBL Minor Bantam A Finalist in Simcoe
The Minor Bantam A team was 3-0 in pool play defeating Milton, Halton Hills and Leaside. In the semi-final round the team staged a come from behind victory over Georgina. They were finally stopped by a very strong team from Waterdown.
RYBL helps Toronto Girls Baseball (TGB) start inaugural season!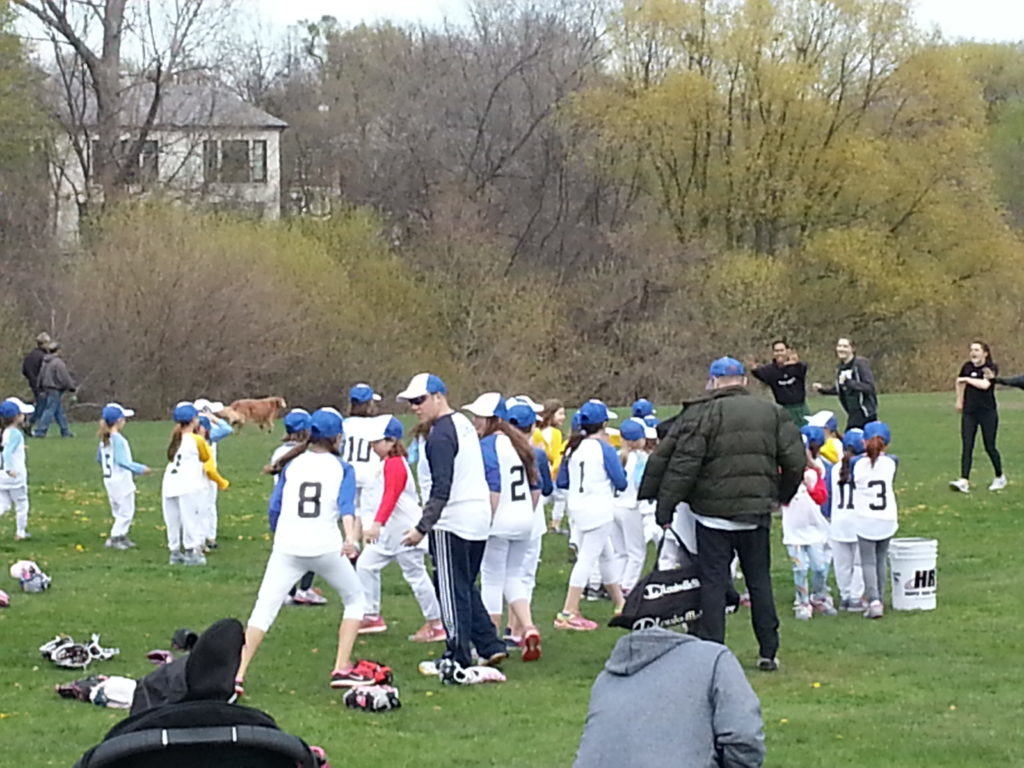 "Toronto Girls Baseball's inaugural season began yesterday afternoon and it was an amazing success. Thank you so much for your advice, support, encouragement and of course, equipment. There is no way TGB would have gotten this far without the help of RYBL."
Dana Bookman, President
www.TorontoGirlsBaseball.com
Royal York Cardinals Classic 2016 Minor Bantam A Tournament
Download Entry Form: Registration Royal York Cardinals Classic.
Blastball in full spring!
Games, clinics…and, of course, snacks (the highlight of every game!)
Field of Dreams at Connorvale Park
Your executive at the Royal York Baseball League (RYBL) was pleased to announce in 2015 that we have received a Field of Dreams Grant from Jays Care Foundation for $150,000.00 to construct a new Bantam size lit baseball diamond at Connorvale Park in south Etobicoke. That grant along with $25,000.00 from Humber College, a contribution from your league and $750,000.00 from the city insured that our new diamond would be constructed. I am pleased to announce that community consultation was completed in December 2015 and bid documents will be issued in mid January with a completion date scheduled for September of this year. However, our official gala opening will take place in the spring of 2017.
Pro Teach Baseball
Throwing Program, Instructional League, Travel Team, Indoor Sessions. Click here for details.
RYBL Baseball Programs!
RYBL offers recreational and competitive baseball programs for boys and girls ages 4 and up. Baseball Divisions include: Co-Ed Blastball, Co-Ed T-Ball, Girls Rookie, Boys Rookie, Boys Mosquito, Girls Pee Wee, Boys Pee Wee, Girls Bantam, Boys Bantam, Boys Midget, Womens and Junior & Older Boys.